2/15/2017
Doug Larsen
Fishman, Larsen & Callister, Partner
• Workplace Law Updates for 2017
3/15/2017
Michael J. Puckett
• What in the World is Industrial Hygiene?
4/19/2017
Mark Anders
• Work Place Ergonomics Assessment 101, Improving Safety & Productivity
5/17/2017
Speakers TBA
• Annual HRCC Safety Conference
6/21/2017
William J. Krycia
• Cal/ OSHA Enforcement 2017
7/19/2017
Speaker TBA
• Manufacturing Safety/ Hazard Identification and Control
8/16/2017
Jack Passarella
• Safety/ Loss Control

1/18/2017
David Parker, Esq.
Parker, Kern, Nard & Wenzel
• Workers' Compensation Update

9/21/2016
Garrett McGinn
Director- Intelligence DivisionDigiStream
• Searching Social Media & DigiStream Investigations

8/17/2016
Danny Aguirre
OfficerCalifornia Highway Patrol
• 2016 DOT Enforcement Part Deux, Hazardous Materials Transport & Regulatory Enforcement

7/20/2016
William J. Krycia MPH, CIH
Senior Safety Engineer, Heat Illness Prevention and Enforcement Coordinator, Statewide Agricultural Health and Safety CoordinatorCal-Osha
• Cal/ OSHA Enforcement 2016

6/15/2016
Cal-Osha Consultative Services
Cal-Osha
• Safety Best Practices & Work Place Injury & Illness Prevention Programs
4/20/2016
Gustavo Gomez, REHS
CUPA Program InspectorHazardous Materials Emergency Response Team
• Hazardous Materials Emergency Response

>>Register for the March 8th FREE Members only Breakfast<<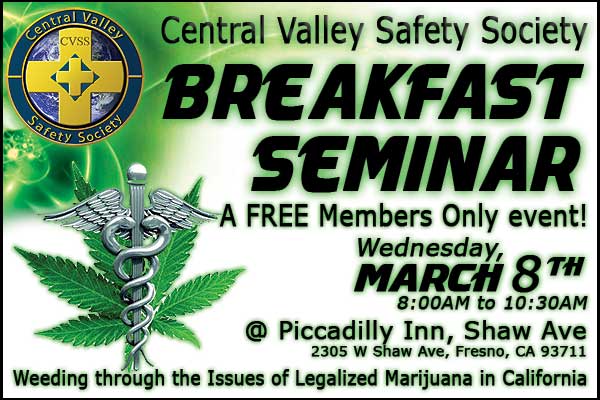 >>Register for the March 8th FREE Members only Breakfast<<
CVSS President's Message
Welcome to the Central Valley Safety Society, (CVSS). Since 1996, CVSS has been and continues to provide safety ideas and solutions to employers in the Central Valley. CVSS is a non-profit organization whose mission is to facilitate and foster the exchange of information and ideas among individuals responsible for safety and health at businesses throughout the valley.

CVSS holds monthly luncheons, January through October, which are intended to provide an opportunity to learn and share ideas to inspire safety in the workplace. The board seeks speakers for these lunch meetings who are experts in their professional fields. These experts share pertinent safety-related information with us in a relaxed and enjoyable atmosphere.

CVSS is a great place to network and learn from a variety of professionals. In addition to the monthly lunch meetings, an annual Networking Mixer is held in November. This is always a well-attended event and a great place to meet new friends who are committed to safety in the workplace.

With a $75 annual membership, each of your company's employees enjoys the benefits of being CVSS members. These benefits include a reduced price for our monthly lunch presentations and admittance to the Members' Only section of our website. The Members' Only section includes access to the prior months' presentations as well as postings for safety related job openings.

We invite you to join CVSS and attend the monthly luncheons to participate in the Members' Only benefits. Together, we can make our work environments and local surroundings a safer place to work and live!

Respectfully,



-Ryan D. Weaver, President
Board of Directors
President: Ryan Weaver

Alliant Insurance Services, Inc.
559.374.3615
rweaver@alliant.com
Vice President: Malcolm D. Montgomery

Kawneer Company, Inc.
559.651.5412
Malcolm.montgomery@arconic.com
Treasurer: Tim Conboy

Ultimate Staffing
559.256.1940
tconboy@ultimatestaffing.com
Secretary: Susie Paredes

Valley Iron, Inc.
559.485.3900
susie@valleyiron.com
Programs Chair: Kimberly Naffziger

Zenith Insurance Company
559.559.4744
knaffziger@thezenith.com
Membership Chair: Mark Ochinero

The Fresno Bee
559.441.6280
mochinero@fresnobee.com
Communications Chair: I Frank Huljev

Palm Medical Group Inc.
559.222.9200
drh@palmmedical.com
Board Member: James Ypma

Initiative Foods LLC
559.875.3354 x 122
james.ypma@initiativefoods.com
Board Member: Jack Passarella

Zenith Insurance Company
559.449.4834
JPassarella@thezenith.com
Our Members Include:

• Agriland Farming Company, Inc.

• AmeriPride Uniform Service

• AppleOne

• Betts Spring Company

• Central California EHS, LLC

• Central Valley Concrete & Trucking

• Del Monte Foods/ Lathrop Distribution

• Edgewood Partners Insurance Centers

• Fishman, Larsen & Calliste

• FreshKO Produce Services Inc.

• Fresno Valves & Castings Inc.

• Gerawan Farms

• Green Leaf Farms, Inc.

• Gusmer Enterprises, Inc.

• Harris Ranch Beef Company

• Initiative Foods LLC

• Jorgensen Co.

• Kawneer Company, Inc.

• Krazan & Associates

• Netafim Irrigation, Inc.

• Nichols Farms

• Palm Medical Group Inc.

• Ponderosa Telephone

• Risico Claims Management (AARLA)

• Sebastian Corporation

• Sinclair Systems International LLC

• Technicon Engineering Services, Inc.

• The Fresno Bee

• The Zenith

• Tom Corea Construction Inc.

• Ultimate Staffing Services

• Valley Iron Inc.

• Walter Wilhelm & Bauer

• Winegrape Inspection Program, Inc.